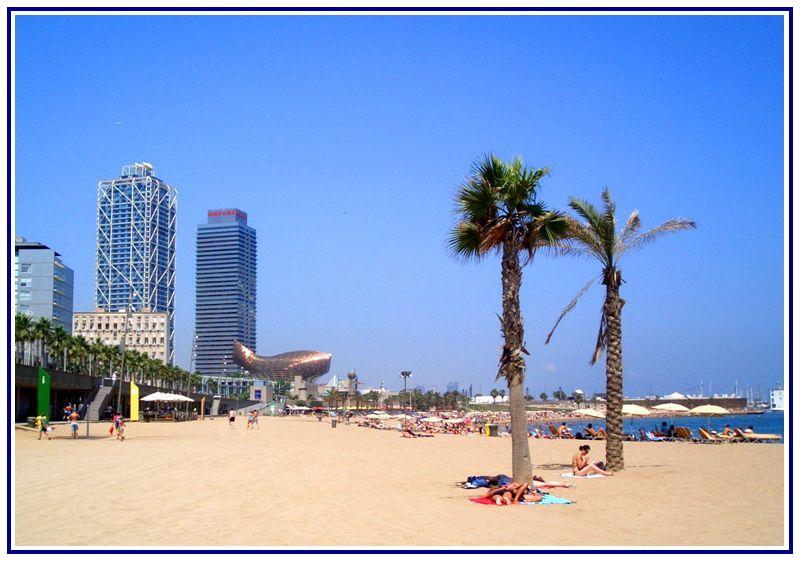 If you are heading to Barcelona this summer, you absolutely cannot miss a visit to one or more of the city's gorgeous Mediterranean beaches.  With golden sands stretching a whopping 4.5km, a refreshing sea breeze, and stunning views across the warm turquoise waters, the beaches of Barcelona provide the perfect place to spend a hot day in the Catalan capital. Whether you're looking to cool off with a cocktail and unwind under the Spanish sun, enjoy a fun family outing, or test out your skills at a few of the various water sports available, the Barcelona beaches have it all. Plus, there is even the option to rent one of the many Barcelona beach apartments situated right on the seafront, giving you easy access to the sands and some stunning Mediterranean views!
Barceloneta Beach
Awarded 'third best beach in the world' by the Discovery Channel, this spot of sand gives beachgoers everything from some of the top seafood restaurants in the city, to the most popular 'chiringuitos' (beach bars) you can find. With a lively atmosphere and plenty of activities to keep you busy, Barceloneta beach is the ideal place to enjoy your Mediterranean experience.
Due to its close proximity to the other sights of the city, Barceloneta is known as the busiest beach in Barcelona. This long stretch of sand is popular with holidaymakers and local residents alike and is easy to get to from the inner city. For those trying to relax, there is always plenty of space to kick back with a good book, but for families visiting Barcelona, it also offers table tennis and beach volleyball courts among other activities, perfect for keeping everyone entertained.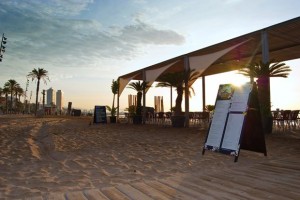 Feeling a little hungry? At the Barceloneta beach, you will find some of the most renowned seafood restaurants in Barcelona at your disposal, many of which claim to have the best paella in town. The famous Passeig de Joan de Borbó is home to eateries that can satisfy even the most distinguished palate, but during the summer, we recommend you head to one of the many 'chiringuitos' along the shore for a true Spanish dining experience. These little beach shacks provide great snacks, amazing scenery, and often have live DJs at night. And, as the sun begins to set, these chiringuitos become top venues for some of the biggest beach parties in Barcelona. We recommend Chiringuito del Sol for some tasty tapas during the day, and cool cocktails at night!
For even wilder party atmosphere in Barcelona, head over to Port Olímpic at the northern end of the Barceloneta beach, home some of the most famous nightclubs in the city, including the 'cool' Icebarcelona as well as the upscale Shôko and Opium Mar clubs, each one offering the very best experience of the nightlife in Barcelona.
How to get there: Metro station: Barceloneta and Ciutadella/Vila Olímpica (L4)
Nova Mar Bella and Llevant Beaches
Nova Mar Bella beach, located in the Sant Marti-Poblenou district, is often labeled as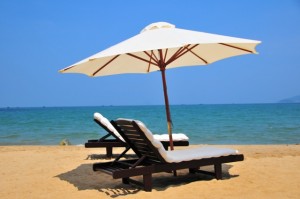 one of Barcelona's most pleasant beaches due to its clean, golden shores. Popular among the young crowd and women, this beach is home to the famous chiringuito chain, Mochima Bar, where you can choose to relax peacefully at this serene setting or party the night away!
Llevant is the most northern beach and one of the least crowded in all of Barcelona. With rentable sun beds and parasols, and even a playground for kids, this lovely beach is perfect for a day out with the whole family. There are also the options of renting jet skis, riding on banana boats, or testing your skills aboard a pedalo, to round out a memorable experience on the Mediterranean Sea.
How to get there: Metro station: Selva de Mar or El Maresme (L4)
Sant Sebastià and Mar Bella Beaches
The  Mar Bella beach is the official nudist beach of Barcelona, but the nudist section is restricted to only one small area of the beach, and needless to say, stripping down is not obligatory! The Mar Bella beach is also famous for its waves that make it the place to be for water sports on gusty days. If you're heading to this beach we recommend you try out kayaking, windsurfing, or even hopping on a catamarán!
How to get there: Metro station: Selva de Mar (L4)
Sant Sebastià beach, situated close to Barceloneta and Port Vell, is one of Barcelona's biggest beaches, and is perfect for a relaxing day by the sea. This area is also home to the Club Natació Atlètic-Barceloneta, where you can take advantage of the indoor and open-air swimming pools, solarium, and for those who need to unwind, therapeutic massages! For more information visit the Club's website.
How to get there: Metro station: Barceloneta (L4)
Nova Icària and Bogatell Beaches
Just past the Olympic Port you can find a more soothing strip of sand, home to the Nova Icària and Bogatell beaches.  Favorites among families visiting Barcelona, they offer a gaming area for the kids, as well as an array of ping-pong tables. In an area frequented more by locals than tourists, these beaches remain popular with those seeking a more calming experience.
Bogatell beach in particular hosts an oceanfront boardwalk where you can enjoy a tasty mojito at any of the chiringuitos or restaurants that line the shore. We recommend grabbing a bite and indulging in some delicious paella at two of the most popular seafood restaurants in the area, Catamarán or Xiringuito Escribà.
And for stunning sunset views, hop aboard a sail boat and take in the gorgeous Mediterranean sights! Visit the Vela Barcelona Facebook for more information and prices.
How to Get There: Metro station: Poblenou or Llacuna (L4)