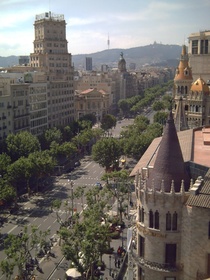 When choosing which neighbourhood you wish to stay in on your trip to Barcelona, you may find yourself spoiled for choice. From the historic Gothic Quarter to the sunny Barceloneta, to the up-market Gràcia, Barcelona is nowhere near short of fantastic areas to call your temporary home. But none are quite like the Eixample district. Packed to bursting with incredible sights, divine restaurants, stores galore and some amazing apartments, this is one place in Barcelona you are sure to fall in love with.
Eixample (pronounced 'ay-shampla') is Catalan for "extension," and the district itself is just that. Located between Ciutat Vella and the surrounding  towns of Sants, Gràcia, and Sant Andreu, L'Eixample was the first extension of the city from the old Barcelona town. The Eixample district is actually made up of two different sections: Dreta de l'Eixample (right side) and Esquerra de l'Eixample (left side). Both of these regions are filled to the brim with sights to see and things to do, making Eixample one of the most popular places to stay in Barcelona.
History and Design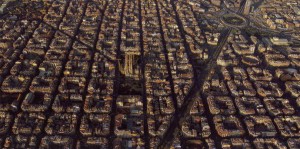 The construction of Eixample took place during the 19th and early 20th centuries. The design of the district itself was carried out by Ildefons Cerdà who chose to create a grid-like pattern when designing the streets and neighbourhoods inside the district. Cerdà considered many different elements when creating this grid such as traffic and transport, along with sunlight and ventilation. The streets within the Eixample district broaden at every intersection making for greater visibility and ventilation. Many parts of Eixample were influenced by the modernist architects and artists of the time, such as Antoni Gaudí, who built two distinguishable houses within the district. But more about that later!
Dreta de l'Eixample
Today, Dreta de l'Eixample is one of the busiest areas in all of Barcelona. Home to the city's centre square, some famous avenues, and several of Gaudí's most incredible works, Eixample Derecho, as it is often referred to, has transformed into one of the most important districts in Barcelona.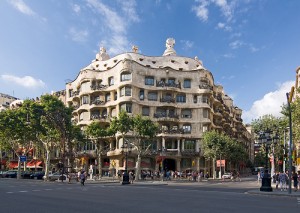 If you're coming to Barcelona, a visit to Plaça Catalunya is definitely on the cards, and while you're there, why not check out what more the Eixample Right district has to offer? We recommend a stroll down the famous Passeig de Gràcia, known as one of the most upscale streets in Barcelona. Sights of the street range from designer shops, such as Louis Vuitton and Miu Miu to some of Spain's most popular high street stores, like Zara and Mango. You will also find a range of trendy bars and restaurants offering culinary delights from light tapas to some of the finest Catalan cuisine. And, if nothing else, head to Eixample's most lavish street to experience some awe-inspiring architecture: Passeig de Gràcia is home to Antoni Gaudí's famous Casa Batlló  and La Pedrera (Casa Mila).
In addition, Dreta de l'Eixample also houses Gaudí's most famous piece, La Sagrada Familia, which can be found in the upper region of the district.
Esquerra de l'Eixample
Just like the right side of the district, the left side is popular with tourists and has plenty to see. Eixample Izquierdo has a whole heap of sightseeing hot-spots and cool places to eat, as well as some of Barcelona's hottest bars and clubs. Various parts of Eixample Left have also earned the name "Gayxample" due to their vibrant gay scenes. The area is home to many stylish shops, gay bars and a vibrant nightlife.
A must see while on the left side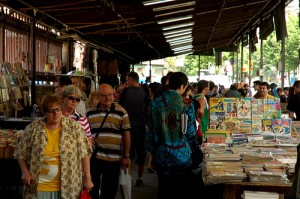 of the Eixample district is the Sant Antoni Market. Located at the south end of the area, the market is a little less crowded than the famous Boqueria on Las Ramblas, and is full of charm. Here you can find every type of Spanish delicacy imaginable, and all for a reasonable price. On Sundays, the market is completely transformed into a secondhand book shop, selling old coins, stamps, and – you guessed it – books.
Another worthy sight in Eixample Left is the Parc de Joan Miró, situated near the grand Plaça Espanya. The park, which can be found on the sight of the old municipal slaughterhouse, plays host to all kinds of events and activities, and has some interesting  features dotted around its central plaza.
Eixample Apartments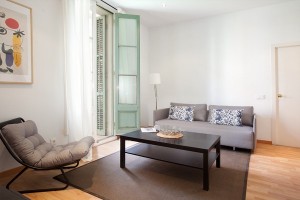 If you're coming to Barcelona, you most definitely will be spending at least some of your time in the Eixample district…so why not stay there? There are many Barcelona apartments in the Eixample district, both on the right and left sides, that are fully equipped and furnished, ready for you to enjoy your stay. Centrally located and with some accommodating up to 8 people, you will find all of the sights of the district right on your doorstep when staying in an Eixample apartment in Barcelona. Many apartments can even offer you views of Gaudí's works, like the Sagrada Familia apartments which are located on the corner of the basilica.
Have you stayed in Eixample before? Drop us a comment and let us know what you thought of the district!