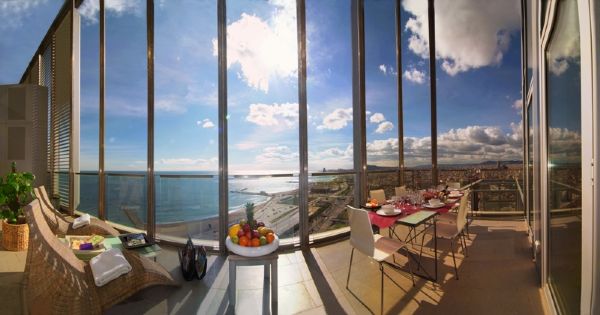 Barcelona is one of the most beautiful and interesting cities in the world and is one of the top destinations for tourists. The natural beauty of its beaches and the mountains with the view on whole Barcelona,historic buildings,parks and museums. Barcelona is a modern  city with a wide variety of attractions together with the Mediterranean nature cuisine that guarantees an enjoyable time for visitors. Millions of visitors are attracted by the huge number of places of interest which makes Barcelona one of the busiest cities in Europe and in the World, so it is better to plan your trip to Barcelona ahead. In this post I will describe one of the most important parts of the trip – accommodation.
Barcelona Accommodation Guide
Cheap apartments
My favorite type accommodation is apartment rentals, as it combines both cheap prices and full comfort during the whole stay. Vacation apartments offer you more space, more flexibility, comfort and a more economic price per person when travelling in groups. Also having your own kitchen you can prepare and eat healthy food, for example try to cook some Spanish food and save some money on eating outside. Also this option is good for those willing to stay for a month or longer as rental companies offer discounts on monthly rental apartments in Barcelona.
Luxury apartments
For those with no budgeting limits there are also luxury apartments in Barcelona available to rent, with fascinating design and top-quality furniture.
You can also choose from studio apartments in Barcelona to 3-6 bedroom apartments in Barcelona, depending on the size of your group.
Hotels
Booking a room in the hotel is a traditional option for those who don´t want to bother themselves with searching for apartments and want all services offered by hotels.
You should be careful when choosing hotel as well, because not all hotels offer the same level of service and price, probably the best would be to look for reviews and feedback of other costumers. And don´t forget to ask about ongoing discounts or promotions before booking the room.